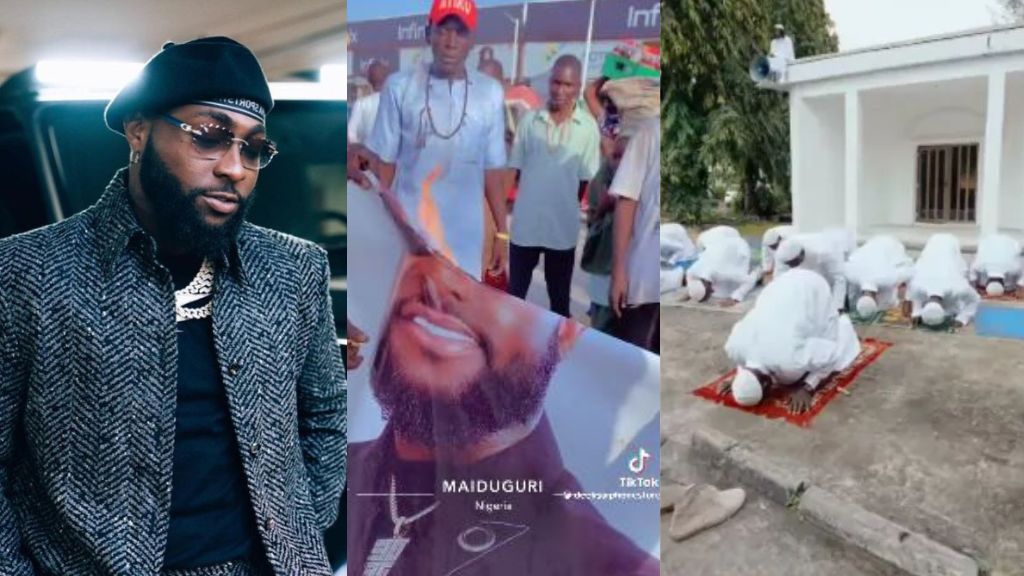 26th July 2023
FOR IMMEDIATE RELEASE
Contact: Ayodele Ganiu, Executive Producer
ayodele@unchainedvibesafrica.com
 

Unchained Vibes Africa's Press Statement on the Recent Harassments and




Threats to Davido and Logos Olori
Unchained Vibes Africa notes with concerns, the excesses of religious fanatics who, over the past few days, have harassed, intimidated and threatened the lives of multi- award winning Nigerian singer David Adeleke, a.k.a Davido and Olamilekan Taiwo, a.k.a Logos Olori, one of the artists under his Davido Music Worldwide (DMW) record label. The cyber harassments, censorship and threats to the artists' lives are in connection with a music video titled 'Jaye Lo' by Logos Olori, under the DMW label. The 45-second teaser of the new music video was posted on 21st July 2023 by Davido on  his social media platforms, promoting the work ahead of its official release.
In the video, men are seen dressed in white long flowing attires (popularly known as Jalabiyas) and white caps observing congregational prayers outside a fictional mosque. This was followed by scenes portraying the worshippers dancing while the singer,  Logos Olori, is captured seated by the loudspeaker mounted on the roof of the fictional mosque.
Shortly after the teaser was posted by Davido, the video attracted condemnations from many Muslims, including a former aide to the immediate past president of Nigeria, Muhammadu Buhari, Bashir Ahmad and popular Kannywood actor Ali Nuhu, who claimed the video disrespects Islam and demanded it to be taken down.
A group, the Muslims Rights Concern (MURIC), in its usual practice, called on the National Broadcasting Commission (NBC) and National Film and Video Censors Board (NFVCB) to ban the video. It also gave Davido and Logos Olori a seven-day ultimatum to take down the video or face spiritual and legal consequences.
Some religious fanatics have since seized the opportunity to threaten the lives of the artists while others have launched hate campaigns, inciting their followers against the artists. One Yaya Abba tweeted: "Davido and this scammer should dare not set foot in the North. Another Twitter user, Sultan, asked the singer to publicly tender an apology or face the consequences whenever he steps on their soil in the north. He tweeted: "We Muslims will never tolerate such disrespect, Islam teaches us how to respect each other's religion, is either Davido come out and apologise or we will forever be waiting for his foot here in the North."
Bowing to the overwhelming pressures, the two artists have deleted the video on their social media platforms. However, religious fanatics have continued to incite their followers against the artists for refusing to publicly apologize. On Tuesday 25th July 2023, Sultan, with Twitter handle @Sarki_sultan, posted a video of some youths setting on fire a banner bearing Davido's image in Maiduguri.
At Unchained Vibes Africa, we recognize the right of any citizen to peacefully criticize a work of art. However, we disagree with the demand to take down the music video and the pressures on the artists to apologize. Unchained Vibes condemns, in strong terms, the threats and incitement of violence against the artists.
We have examined the teaser of the music video and found nothing wrong with it. The video in question is a work of art and not an actual incident. It is an expression of a religious feeling through music which is a fundamental human right. Music creates a safe space for people to connect with their deeper thoughts and express their feelings in a way that words may not be able to.
Kannywood actor Ali Nuhu, in his criticism of the video, claimed that it is totally unacceptable in Islam and said, ''we should learn to respect other people's religion, culture and tradition''. The contentious scene in the video relates to the dancing which some claim ridicules Islam. However, Muslims who are not fanatical understand that anything that is not explicitly prohibited by the Qur'an or the Hadith of Prophet Mohammad (peace be upon him) is permissible in Islam. Many contemporary Islamic scholars including Shaykh al-Azhar Mahmud Shaltut, Shaykh Yusuf Qaradawi, and Ayatollah Ruhollah Khomeini have all issued legal rulings that audio arts that do not encourage people to go against Islam are permitted. In this music video, the lyrics and acts, do not, in anyway, portray Islam in bad light.
There are approximately 1.8 billion Muslims around the world with various forms of diversity. They are different in terms of sects such as Sunni, Shia, Sufi and others as well as various schools of jurisprudence such as Hanafi, Ja'fari, Maliki, Shafi'i and Hanbali. There is also the diversity occasioned by local traditions of different cultures that have left their mark on Islamic practices and interpretations.
The contentious video is conceptualized in a fictional Yoruba Muslim community setting with a fusion of Fuji and Afro pop music genres. Fuji is an offshoot of Wéré, a Yoruba music genre which evolved as a way of using music to awaken Muslims to observe the Sahur and prayers during the Islamic holy month of Ramadan. Based on our review of the lyrics of the song, the singer expresses his life transformation from a poor background to an elevated position in his music career. He expresses his gratitude to God in Yoruba language, accompanied with the word ''Alhamdullilahi'' which is Arabic word for ''thank you, God''. The teaser ends with celebration with dance. The concept of the video is nothing different from Assalatu practice. Throughout the Southwest of Nigeria, many people in the Yoruba Muslim community observe Assalatu, a religious gathering which involves singing and dancing. We believe that it is in this context that the music video was conceptualized by the creative team behind it.
Ali Nuhu preaches respect for other people's religion, culture and tradition. One of his followers, identified as Shazali Jibril Rimaya, in his comment on Nuhu's Facebook post, lamented that, ''It's very unfortunate that Yoruba Muslims community didn't condemn this nonsensical act''. At Unchained Vibes Africa, we urge Mr Nuhu, his followers and all religious fanatics to practice what they preach by accepting and respecting the diversity of the Muslim community in Nigeria.
Nigeria is a multi-ethnic and multi-religious country with diversity even within the Muslim community. Recognition of this diversity will enable peaceful coexistence of different interests, convictions, and lifestyles. The world has evolved and every Muslim faithful needs to understand this. A Muslim who insists that only his or her interpretation of Islam is the only acceptable path simply denies Islamic diversity. This behavior may pave the way for intolerance and violence.
The tussle between artistic freedom and religious intolerance is entrenched and manifested in the Nigerian society. State actors through censor boards routinely ban movies, songs and other artistic expressions in order to appease religious fanatics and extremist groups. Non-state actors, both individually and under the auspices of religious groups, flood social media pages of artists, demanding that a song or video be deleted because it offends their faith. This is followed by threats of violence which usually leads to the artist being pressured to bow to their demands. All these have continued for a long time because there are rarely consequences. These behaviours need to stop.
At Unchained Vibes Africa, we believe that Davido and Logos Olori do not owe anyone any apology for the music video 'Jaye Lo'. In fact, the video should not have been deleted in the first place. As a reminder to Ali Nuhu, many of us in the entertainment industry are Muslims too and we have a right of access to works of art that express Islamic religious feelings. It is a fundamental human right.
Section 39 (1) of the Constitution of the Federal Republic of Nigeria states that: 'Every person shall be entitled to freedom of expression, including freedom to hold opinions and to receive and impart ideas and information without interference.' Nigeria has ratified the International Covenant on Civil and Political Rights (ICCPR), the International Covenant on Economic, Social and Cultural Rights (ICESCR), and the African Charter on Human and Peoples' Rights (ACHPR), all of which protect the right to freedom of expression. Artistic expressions are protected under Article 19 of the ICCPR guaranteeing freedom of expression in any form, including through music. Therefore, this right is protected under the Nigerian Constitution as well as its obligations under the ICCPR and the ACHPR.
In resolution 77/225 of 15th December 2022, the UN General Assembly, among other recommendations, called upon all Member States to take actions, as called for by the Secretary-General of the Organization of Islamic Cooperation, to foster a domestic environment of religious tolerance by speaking out against intolerance, including campaign of religious hatred that constitutes incitement to discrimination, hostility or violence.
Unchained Vibes Africa calls on the Department of State Services (DSS), the Nigeria Police Force, the Nigeria Security and Civil Defence Corps (NSCDC) and other security agencies to immediately invite for questioning and possible prosecution, all those threatening the lives of the artists, burning their banners/posters and inciting young people. Ignoring these behaviours embolden religious extremists to act with impunity and continue with their years of unleashing violence on innocent citizens in the name of religion.
We also call on public figures, celebrities and religious leaders to exercise caution while publicly commenting on religious issues as many of their followers hold extreme views of their religious beliefs. Public figures are social media influencers whose comments may directly or indirectly promote religious intolerance and support extremism.
Signed

Ayodele Ganiu
Executive Producer